Welcome to our final seasonal challenge for this year.  
Have you enjoyed participating in these extra exercises?  This quarter, our challenge will be focusing on long exposure photography.  Long exposure photography simply means capturing an image over a prolonged period of time.  Normally we take our photos instantly with a simple click of the camera.  Long exposure keeps the shutter open for an extended period allowing you to get creative with the image you are attempting to create. 
In this blog I will show you a few different interpretations of long exposure photography.  When I first learned about long exposure  I was amazed at the different ways I could use it to foster my creativity. 
Camera settings: F/10, SS 20 secs, ISO 250.  
I will primarily speak to long exposure photography utilizing a DSLR camera as it's what I use and know best.  You can use your phone to create similar images.  I will give a brief outline using an Iphone but if you use a different type of phone I suggest you google your specific brand to see if you can do long exposure photography. 
Long exposure photography starts with a slow shutter speed.  When you introduce a slow shutter speed it takes longer to capture the image.  When you keep your shutter open longer there is a higher chance you'll experience camera shake which will impact the sharpness of your photo.  It is difficult to obtain  sharp focus in your photo when you drop your shutter below approximately 1/80th of second.  This number will vary depending on the type of lens you are using but the general rule is anything below 1/the focal length of the lens.  For instance, if you use 100mm lens, you'll likely notice camera shake if your shutter is below 1/100 sec.  To reduce or eliminate camera shake in your long exposure photos, a tripod is recommended  
What shutter speed you use will be determined by what you are hoping to capture.  For the photo above I used a dark bedroom in my basement.  I set my camera on a tripod and set the timer to 10 sec.
I placed myself on the left hand side doing a fist pump and held the pose for 10 seconds.  I then flipped around and placed myself on the righthand side doing a fist pump until the shutter closed.  It took a few tries but it's fairly simple to do.
Below I will show you further examples of how I've used a slow shutter speed to capture a specific image.  I will provide you with what settings I used.  Use these settings as your starting point and then play away and see what kind of results you can achieve.   A similar image to the one above is this one that I took with Brian.  
I had Brian sit in each place for 10 seconds before moving to the next pose.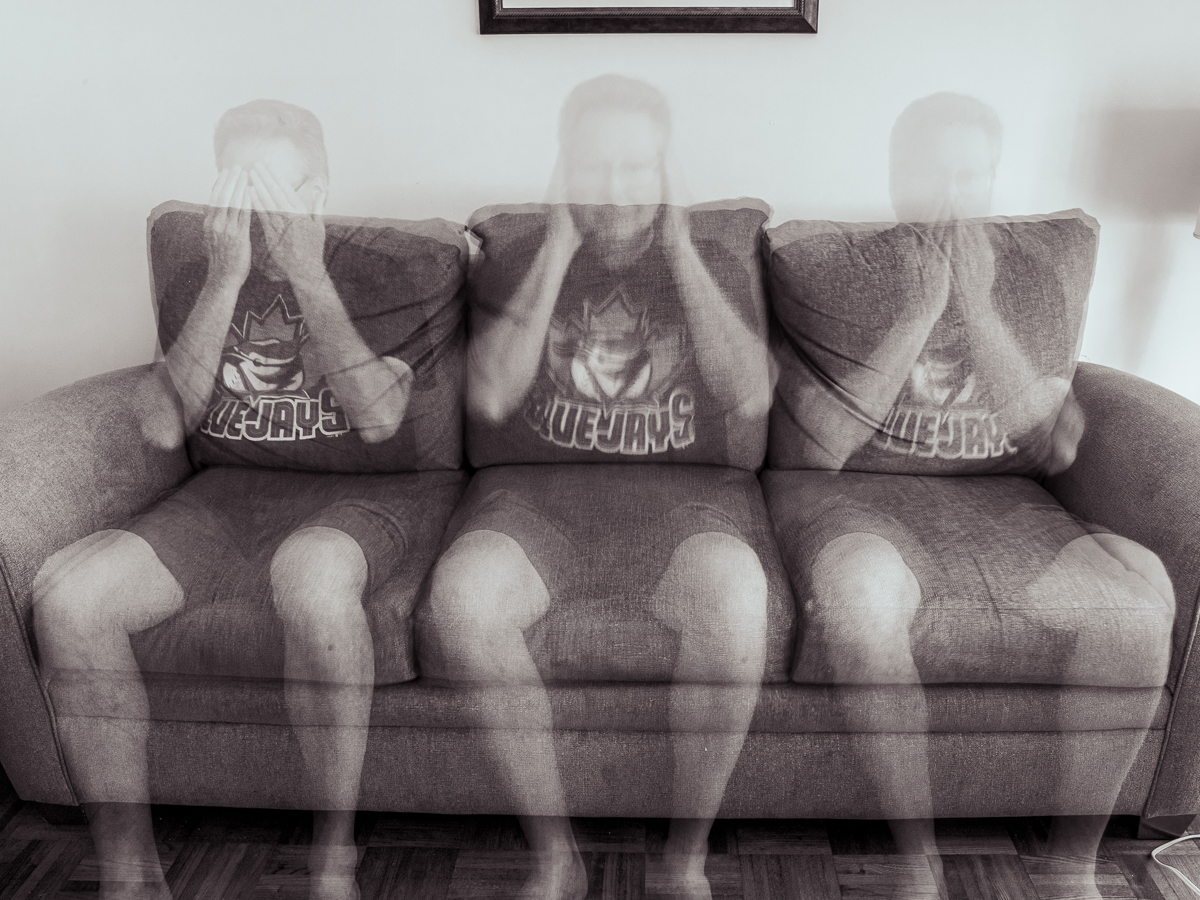 Camera settings: F/10, SS 20 secs, ISO 250.  
Here are few further examples of long exposure photos you can do at home. 
For the 365 flame I used a dark room and a bbq lighter.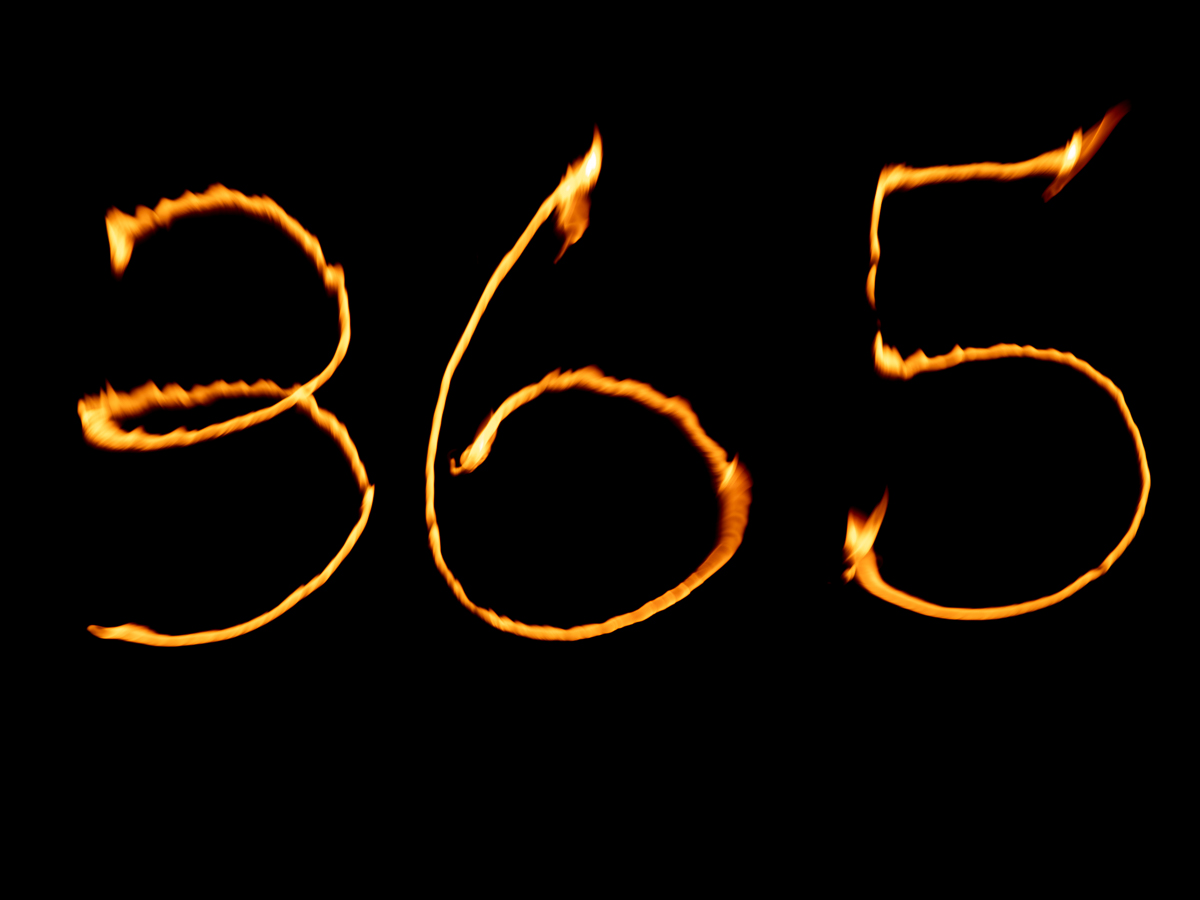 Camera settings: F/18, SS 13 secs, ISO 150.
Dancing Lights - I used a string of multi coloured fairy lights and moved them around in different patterns for the time the shutter was opened.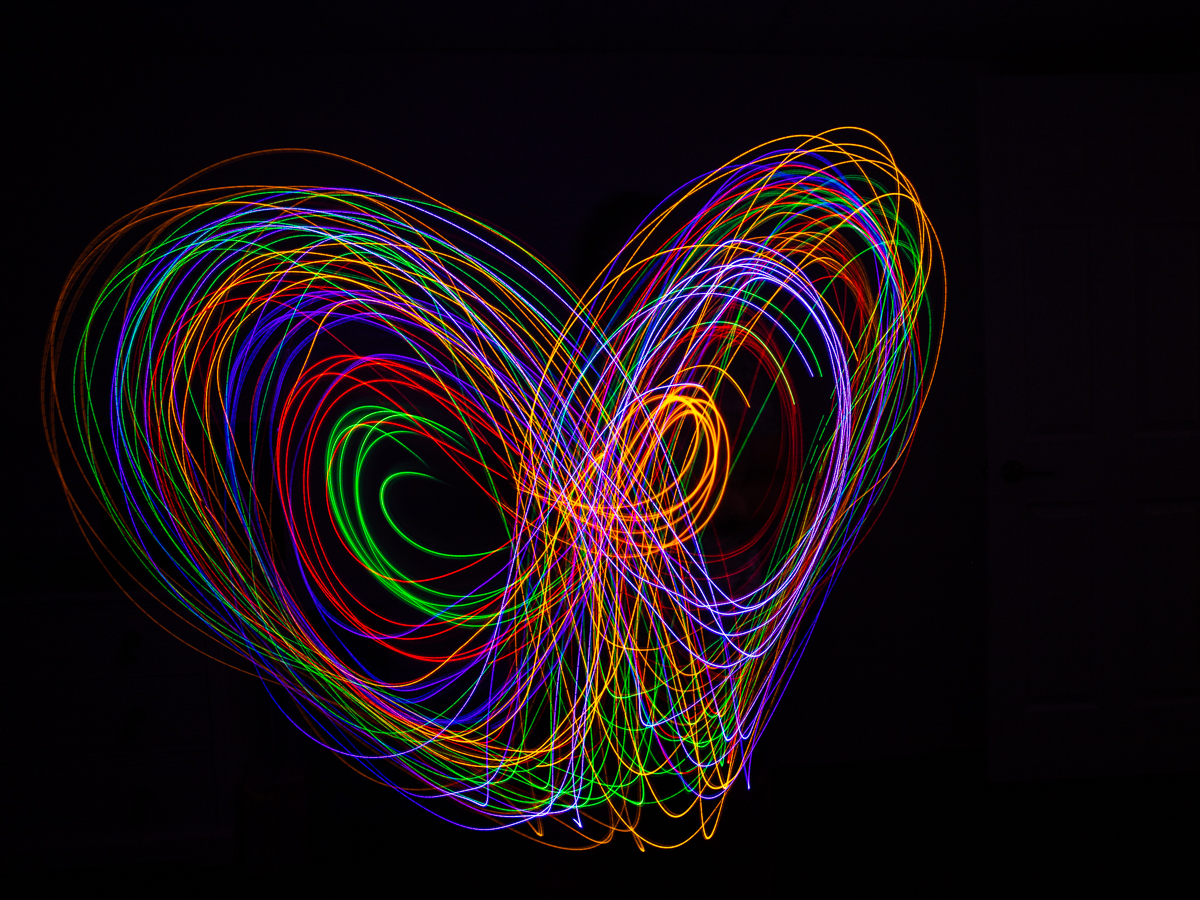 Camera settings: F/18, ss 8 secs, ISO 320.
Looking through my hands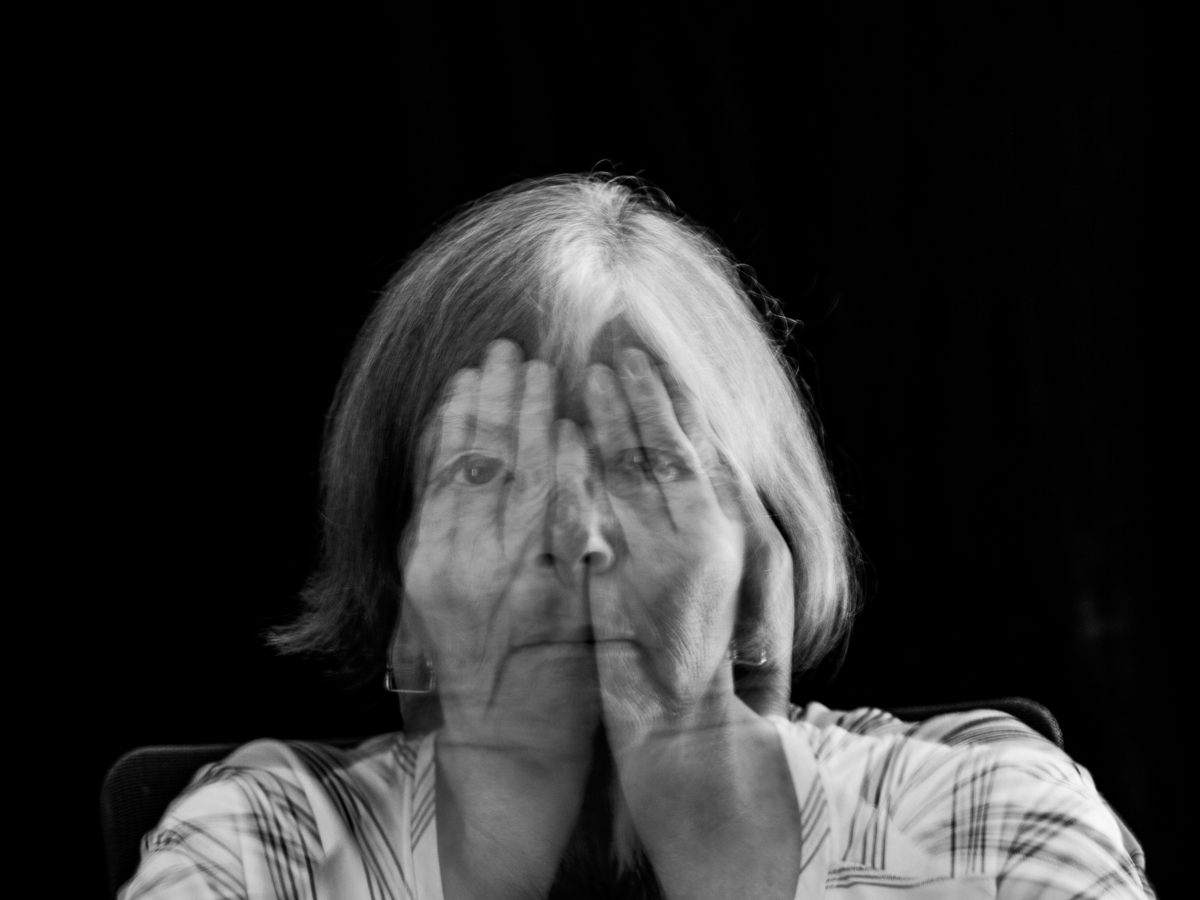 Camera settings: F/4, SS 10 sec, ISO 100 
If you are more into capturing the night sky here are a couple examples of how you can use long exposure.  This is a shot of the Neowise comet that was shooting through the skies a few years ago.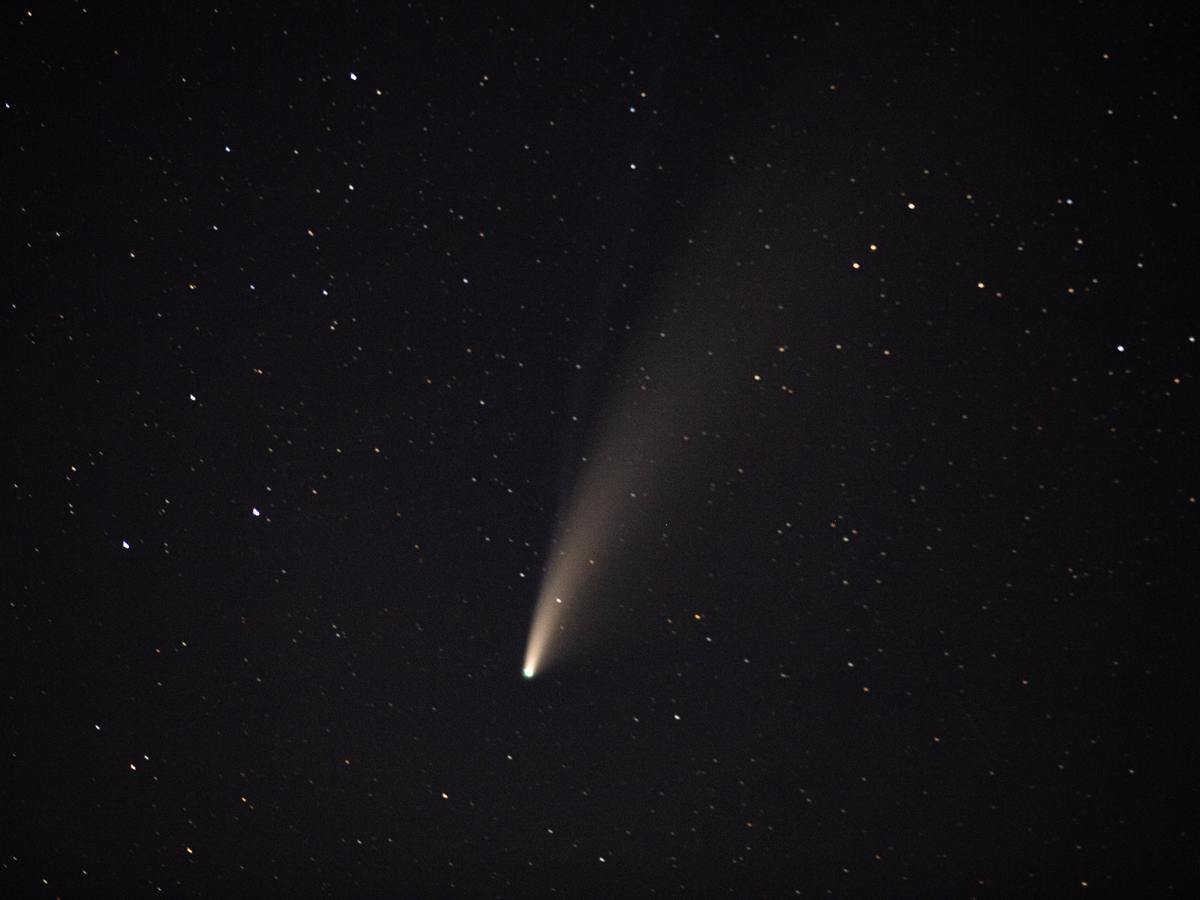 Camera settings:  F/2.8, SS 10 sec, ISO 800.
On a clear night you might be able to capture the milky way.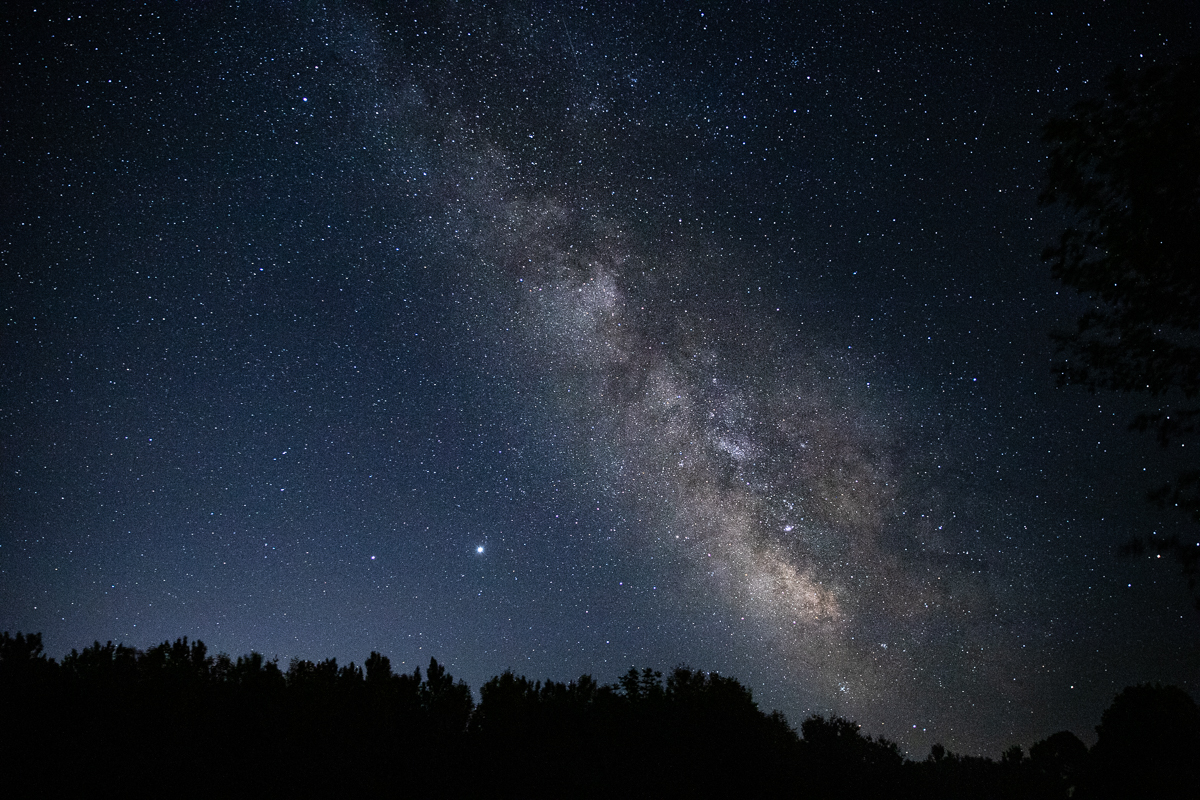 Camera settings: F/2.8, SS 8 sec, ISO 3200
Night time is a great opportunity to try long exposure photography.  If you're up to venturing out in the dark, here's are a few other examples of how you can use long exposure.
Find a busy road or overpass and capture the light trails of the traffic as it zips by.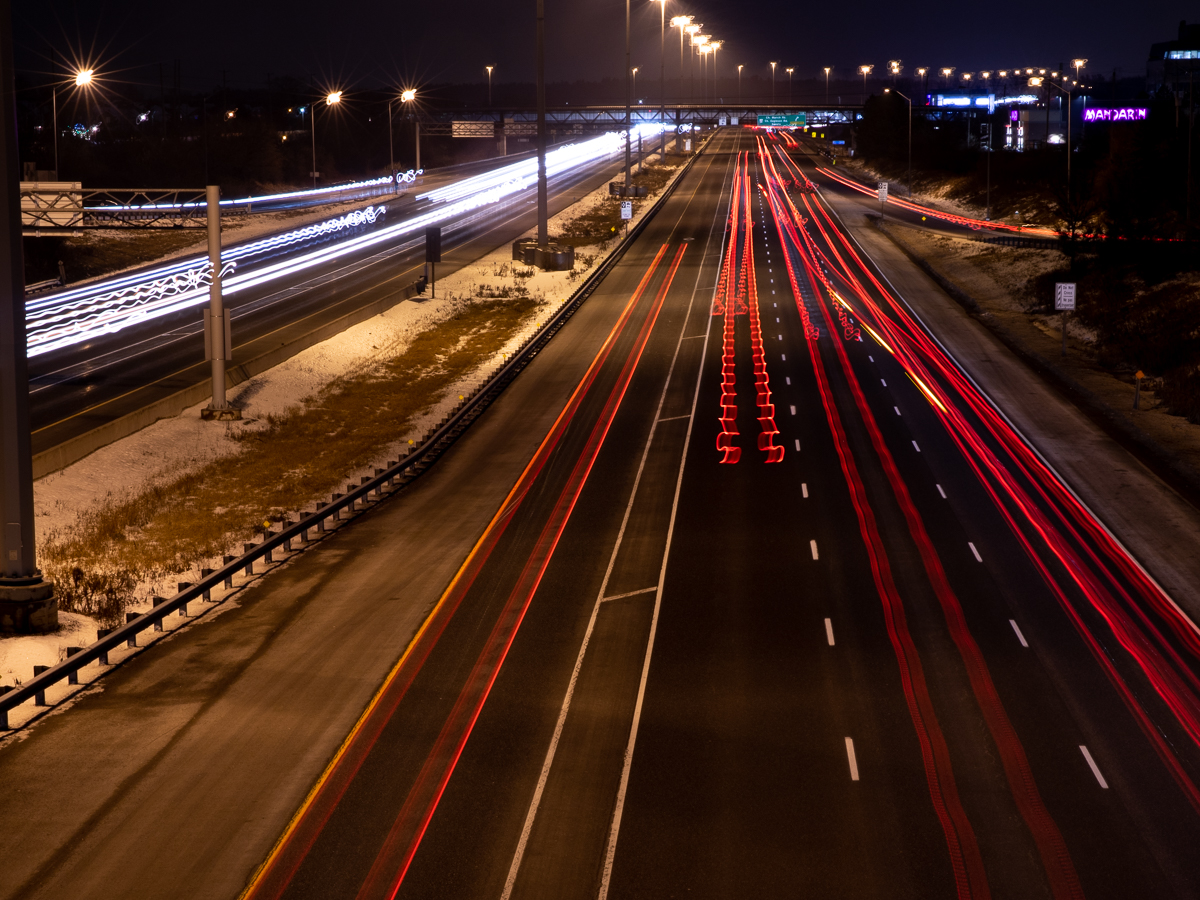 Camera settings: F/14, SS 10 sec, ISO 200.
Long exposure is also a great way to capture some intriguing night amusement park photos.  All these rides have great lights on them.  You can capture some great movement patterns with a show shutter speed.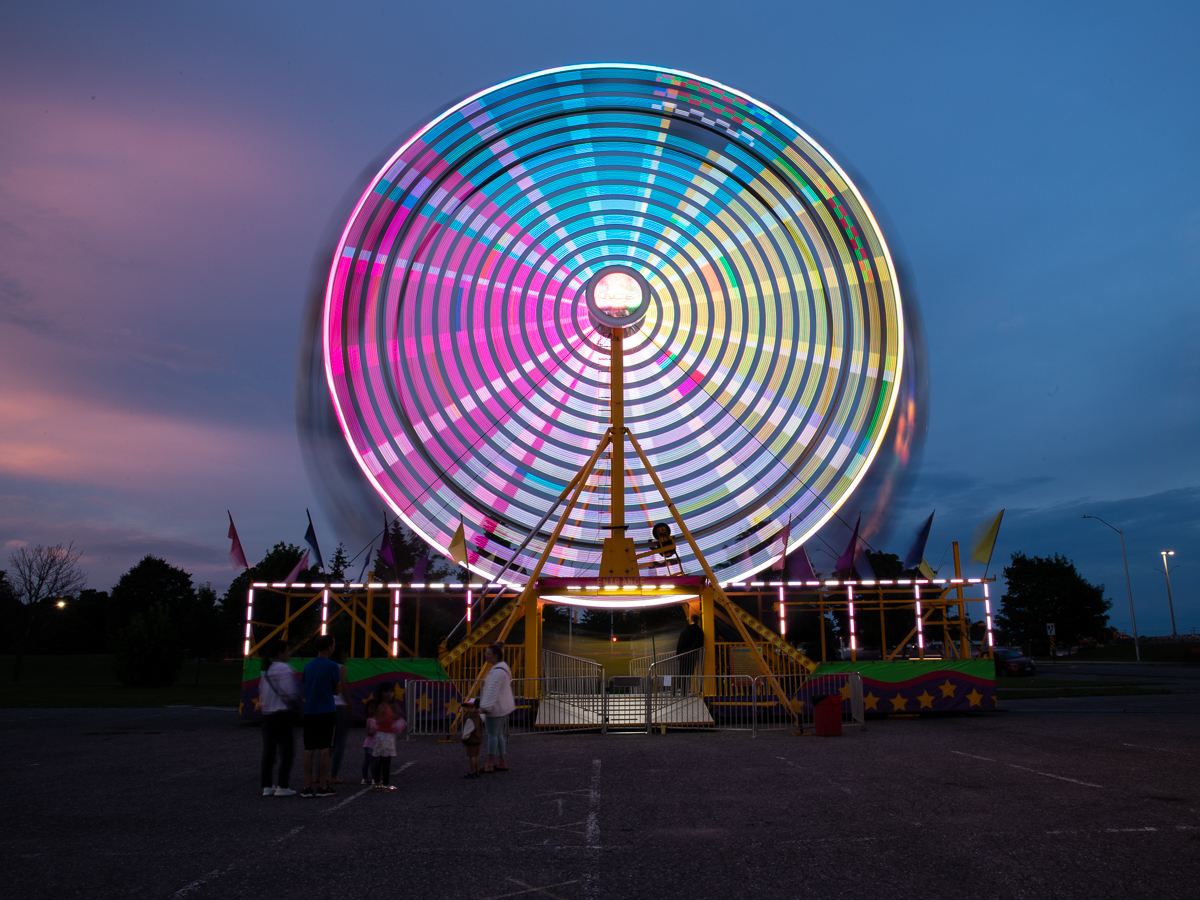 Camera settings: F/22, SS 1.6 secs, ISO 100.
If fireworks are scheduled for your area, why not get out and capture some awesome photos.  Capturing fireworks was one of my photography bucket list items.  Last summer I was able to check it off.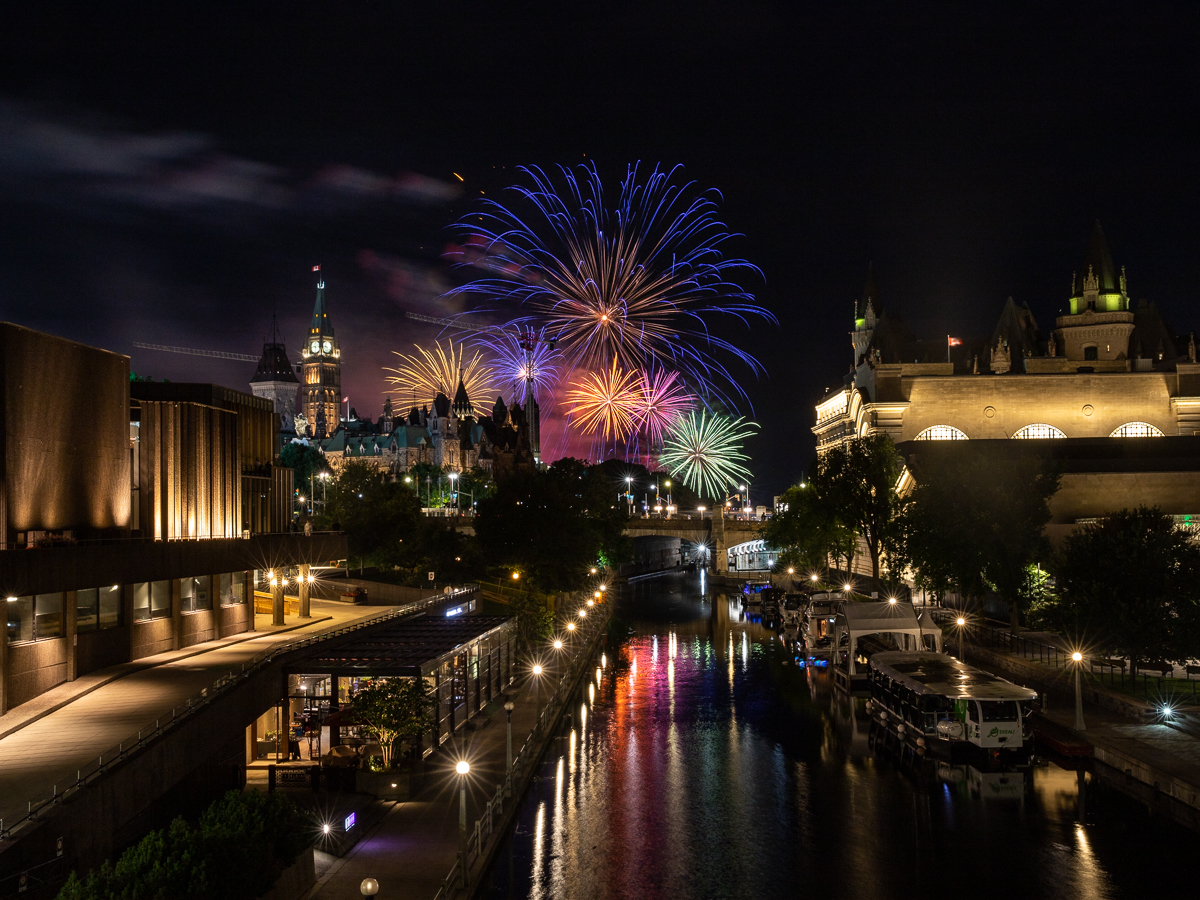 Camera settings: F/11, SS 13 secs, ISO 125.  
I've seen many great photos of silky looking waterfalls.  I admire many that are posted by members of this group.  I went out a couple of weeks ago and gave it a shot.  As this was shot during the day, I needed to use a ND filter on my lens to darken the sunlight coming through. Camera settings: F/14, SS 1 sec, ISO 100. Unfortunately I'm not able to tell you my ND filter settings as I was mostly just playing around trying to see what I could capture and didn't note what ND stop I was using.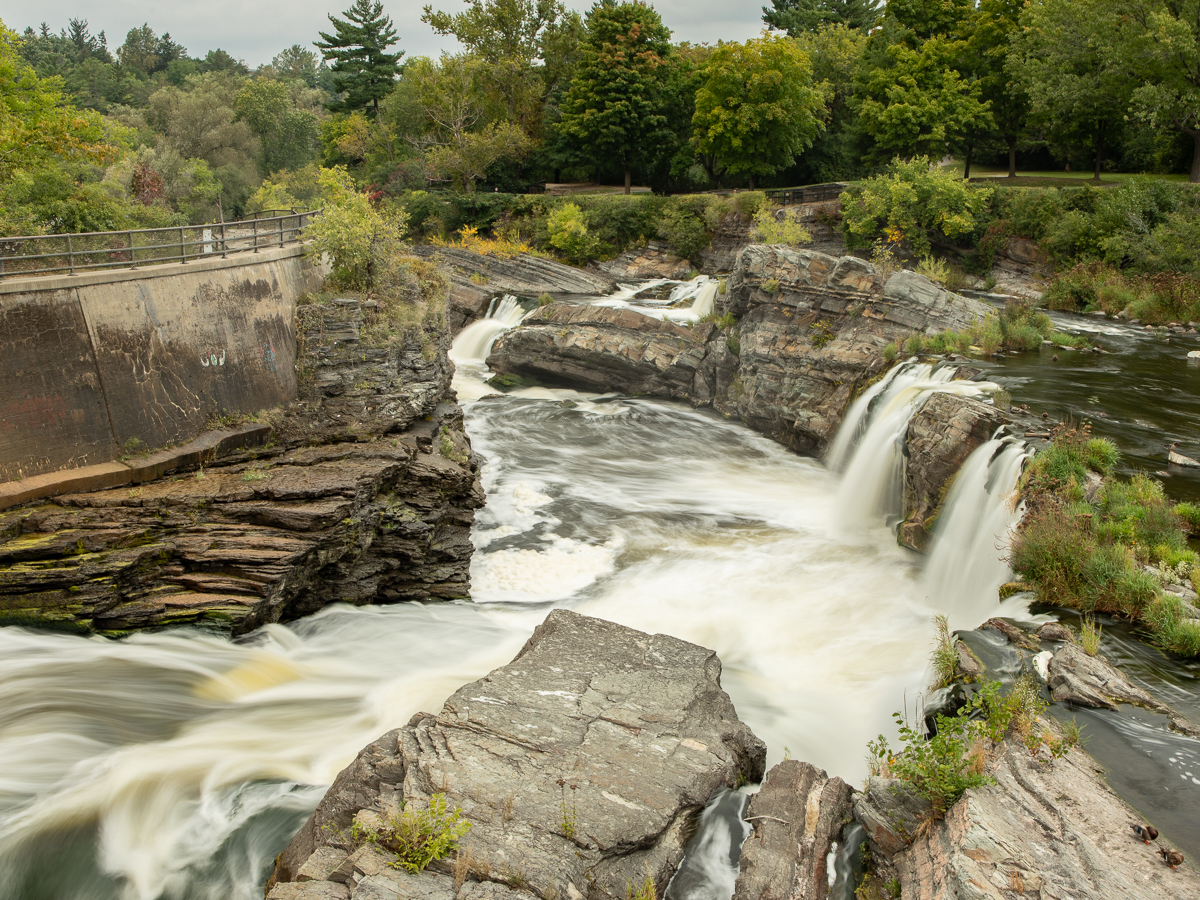 Camera settings: F/14, SS 1 sec, ISO 100. 
All the above examples of long exposure photography were captured utilizing my DSLR.  I have never tried it on a phone but when doing research for this blog I noted that taking long exposure photos on a phone is possible on certain types of phones.  I recently saw the photo below, taken by Christina Coltro, on our 365 Facebook page where she utilized her iPhone.  I contacted Christina and asked her if she could explain how she took her photo.  Here's the details she provided for long exposure on an iPhone:
Make sure that the Camera is set to "Live" mode. 
Take a photo, keeping the phone as still as possible. 
Find the photo you took on the Camera Roll 
Select "Long Exposure" effect from the drop-down menu on the top left side of the photo.
If you have an iPhone, give it a go and show us your results!
I wasn't able to research long exposure for all phones but I did learn that most phones have a manual setting for photos that you can use for long exposure photography.  If you check your phone's manual you can find out if it has the capacity to shoot in manual.  If it does, then you can use settings similar to those I have outlined above on each photo. 
If you're not sure if your phone has manual settings or it's just too much work, there are a number of apps available that you can download.  If you google apps for long exposure you'll have your choice of options, both free and for a price.
iphone - Camera Live Mode
I have a fondness for long exposure photography and I love playing around and seeing what I can create.  I hope I have given you some ideas of what you can capture for this challenge.  You can use my settings as a starting point and alter as necessary to capture the image you're going for.  I don't think I always used the optimal settings for my photos but it's where I landed when trying to capture my vision.
Now it's your turn.  What long exposure idea will you go with?  Give it a whirl and show us your results.  Once you've taken your photo please uploaded it to Dropbox by 17th October.  I'll post the results shortly after.
I hope you have enjoyed our seasonal challenges.  We would love your feedback on this new initiative we tried this year.  Did you like it?  Did you participate?  Would you like us to do these challenges again next year?  If so, what techniques would you like us to focus on.  Your input will guide us as we move forward to the new year.