Are you ready for some extra photo fun this month? I sure am and we hope you are too!
Since National Scavenger Hunt day falls in May we thought it would be fun to have a group Photography Scavenger Hunt! 
A photography scavenger hunt follows the same format as a traditional scavenger hunt... there is a list of items that you will go on the hunt for, but, instead of collecting the items you will be photographing them! 
Over the next week or so we want to encourage you to explore both indoors and out, observe the details big and small, be as creative or literal as you like but most of all have FUN!
Here's the List:
Sunshine
Fibonacci 
Sign
Begins with "C"
Heart Shaped 
Something Metal 
Color Yellow
With Hands
Rough Texture
Once your hunt is complete and all the items photographed you will compile those images into a collage. 
The collage will be your prompt photo for National Scavenger Day on May 24th.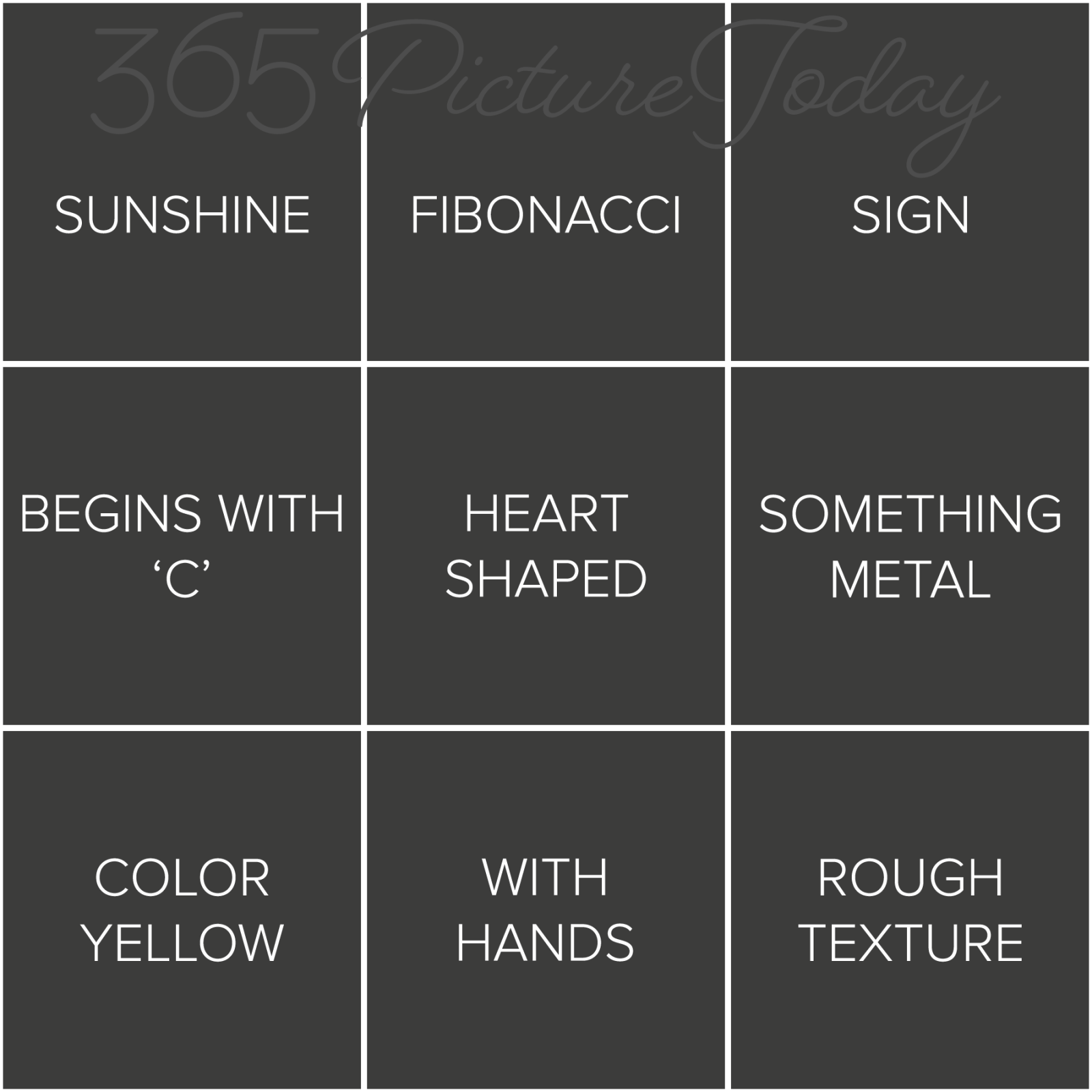 Challenge Round
Not ready to let the photo fun end? Than the Challenge Round is for you!
Instead of collecting photos of items this time you will be practicing techniques. 
Here's the List:
Bokeh - that dreamy effect you get when shooting with a wide-open aperture like f2.8 aperture or wider.
Pattern - repetition of lines, shapes, tones or colors.
Golden Hour - period of daylight shortly after sunrise or before sunset when the light is at it's softest and most magical. 
Reflection - the use of a reflective surface to create an image.
Once you have all of your techniques photographed just like before you will compile the images into a collage.
Add your Challenge Round Collages to the Scavenger Hunt Album in our 365 Picture Today Facebook Group by May 30th. 
Wondering where to get those collage templates? 
Here are a few options many of them are free and come with a wide variety of customizable templates.  
Adobe Photoshop Express
Canva 
Collage App
Diptic
Layout for Instagram
PicMonkey 
Pic Stitch App 
LIGHTROOM PRINT TEMPLATES
If you want to use the 365PictureToday Scavenger Hunt templates in Lightroom as used in this blog. 
Click here to download the templates.
Instructions:
Download zip file containing the templates and save zip file to your computer. 
Extract the preset files from the zip file (usually right click and extract works on PC or double click on Mac). That should create a regular folder that includes the two collage templates.  
Open Lightroom and click on PRINT tab in the upper right.
In left panel area, under "Template Browser" right click and select "create new folder" and give it a name if you want these templates in a new folder.
Right click on the newly created folder or existing folder and select "import."
Navigate to the location where you saved your extracted template files from the zip file and select both of them and click import.  
Please note, you must be selecting .lrtemplate files.
Good Luck & Happy Hunting!