...and better stories make better photos
You are a storyteller. Whether you believe it or not, every photo you take has a story to tell. Two-hundred photos of the same sunset may all tell the same story, but they still make you a storyteller.
If you've seen my photos, you've probably noticed there are often a lot of words to go with them (each photo is worth 1000, right?). To be honest, the writing is probably my favourite part, and I often look forward to the writing more than the photo. 
Not everyone enjoys this, but I want to encourage you to be more intentional with your storytelling: the photo and the words.
The reason I love writing with my photos so much, beyond the fact that I simply love writing, is that it gives me an account of my day or my process.
As I look through my Instagram feed it's like looking at a photo album and reading a diary at the same time. Sometimes the captions are great reminders to me just when I need them.
I love having these small, seemingly insignificant memories to look back on. You don't have to be a great writer, or a writer at all. If you're not a writer and never intend to be, think about telling your story for yourself only, or for your family, along with your photos. Even if it's just for today. We are not just photographers, we are storytellers.
If you want to improve your writing and photography -- if you want to be a better storyteller, there is one question we must answer: What does a good story have? Here are three things to keep in mind.
1. A good story needs a beginning and an end
Every good story has a definitive beginning and end, right? With photos, one of my favourite ways to do this is with leading lines. Lines help to guide our eyes so we take in more of the photo.
It's a journey that you go on in a single frame. It provides a clear beginning and takes the viewer to the final destination, the place where we, as photographers (I shout confidently to you and whisper quietly to myself), want the viewer to land.
With words, if you want to get better with storytelling along with your photos, have a clear beginning in your mind. Maybe you're telling about your day, or just the process of taking your photo. Maybe you want to write an actual story about what you imagine is going on in your photo.
Where does this photo begin? Was it a happy beginning, or did it start out rough? Does your photo start when you wake up to see that the sun is shining? 
What were your goals? We don't always end by completing our goals, but we often begin with setting them before life, inevitably, unfolds differently than we planned.
Start at the beginning and take us through whatever journey you choose, and think about the ending. Is it a happily-ever-after, or a better-luck-tomorrow kind of ending?
Personally, I have days where I am energetic and confident, and I have days when Depression strikes, and all kinds of in-between days, but either way, I determine to leave with hope. I choose that as my ending every day. You can choose this too. You can re-write and re-frame the ending. That's one of the best parts. This is not just for others, but it's the story you tell yourself as well.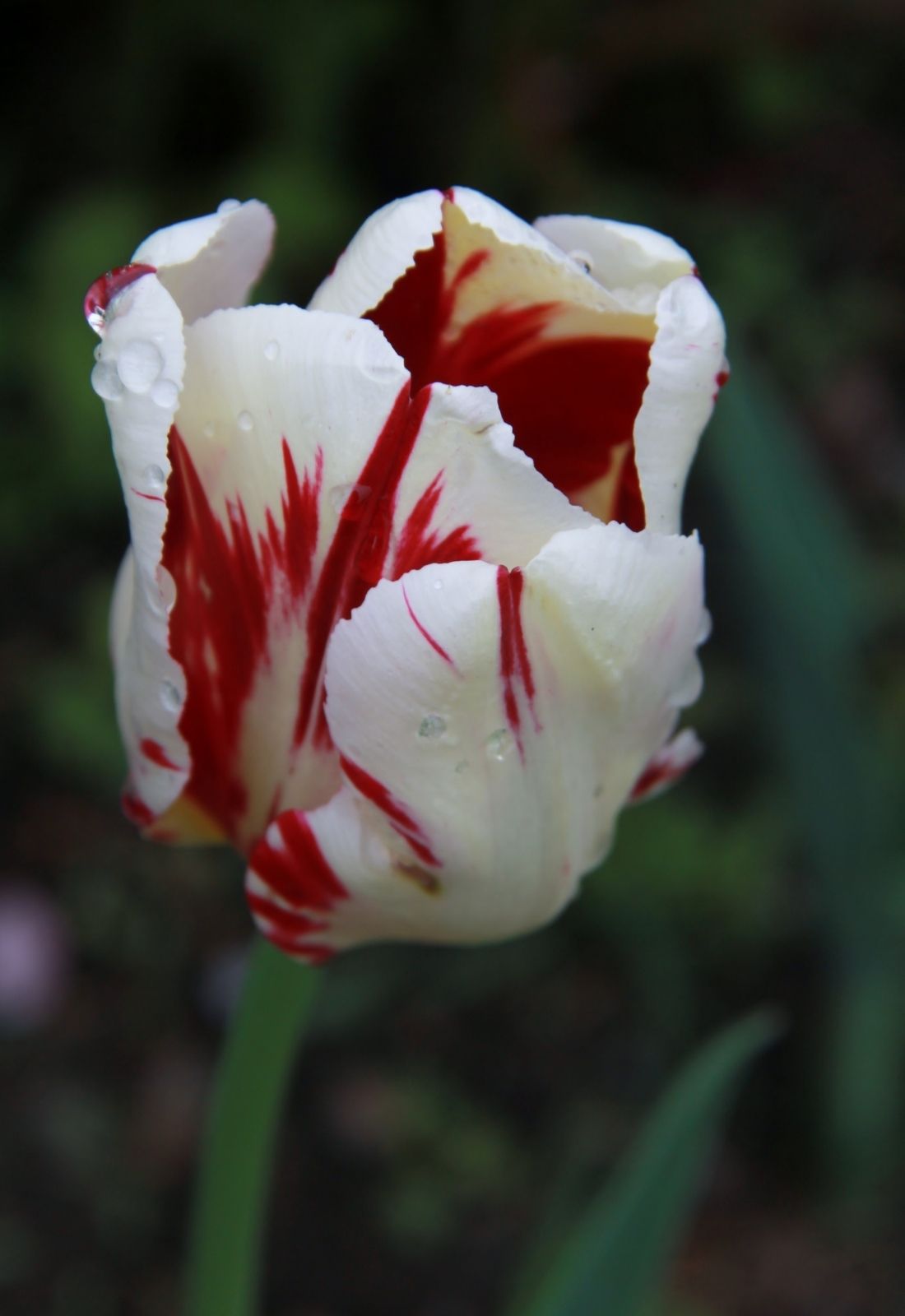 2. A Story Needs a Clear Purpose, and a Hero
I remember a photo I took in the Spring of 2020, my first year taking a photo a day. It could have been a great photo, simple, with tea and custard pie. Instead, I decided to add everything I could think of to go along with the theme. 
At the end, I had a cluttered mess, with no hero and no focus. From then on, I've been more critical of just how much I'm including in a photo. This can be done with framing, or taking a step-back from your still-life photos to consider whether or not you're trying to force it to do too many things.
We need a clear hero in our photos. The sharpest way to do this (pun intended) is with our focus. Our focus determines the hero our photo. Maybe it's an entire scene, or perhaps it's one flower in the garden, like my photo above. 
Another way to show the hero in your photo is with your lighting.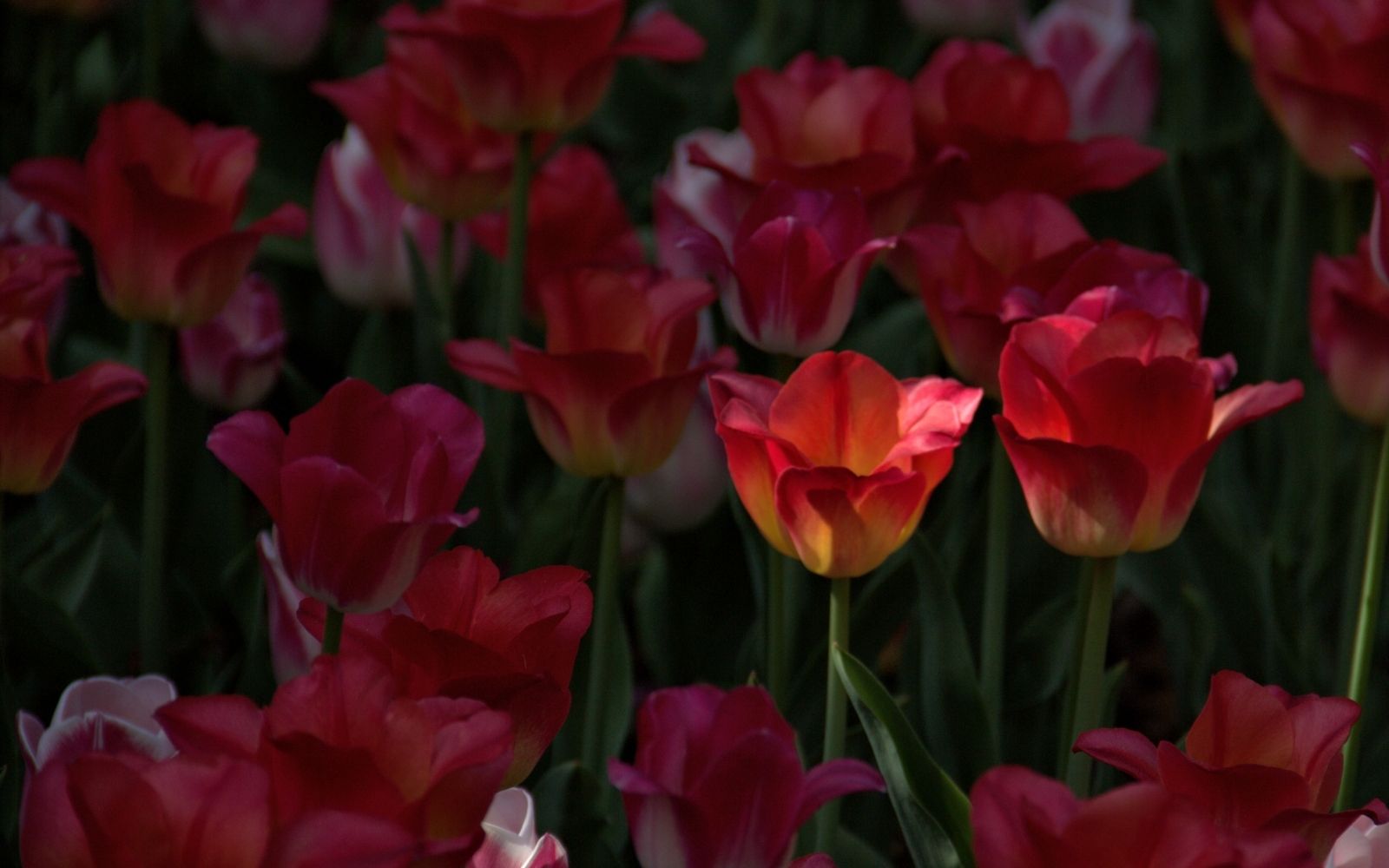 The sun showed me the hero in this photo. It stood out above the rest as though this tulip had something to say and I was drawn to it. You can of course manipulate your light, if light (or lighting) doesn't strike in your day to shine on the perfect moment.
Sometimes we find the hero, and sometimes we have to make one.
Tulips are the heroes of Spring that let us know, here in Canada, when we can finally put our winter coats away.
With our written (or typed!) storytelling, we sometimes get caught up on extra details that don't really matter. We don't need to recount every moment, but stick to the ones that stand out.
Who or what was the hero of your day and your photo? How is that hero captured in your photo? It may be indirectly captured in your photo, or captured only in your heart. Capturing this in words puts such a bright spot on what may otherwise be a dull day. Sometimes the hero of my day is coffee that's made just right, maybe it's a family member. Sometimes, I hope, that hero is you.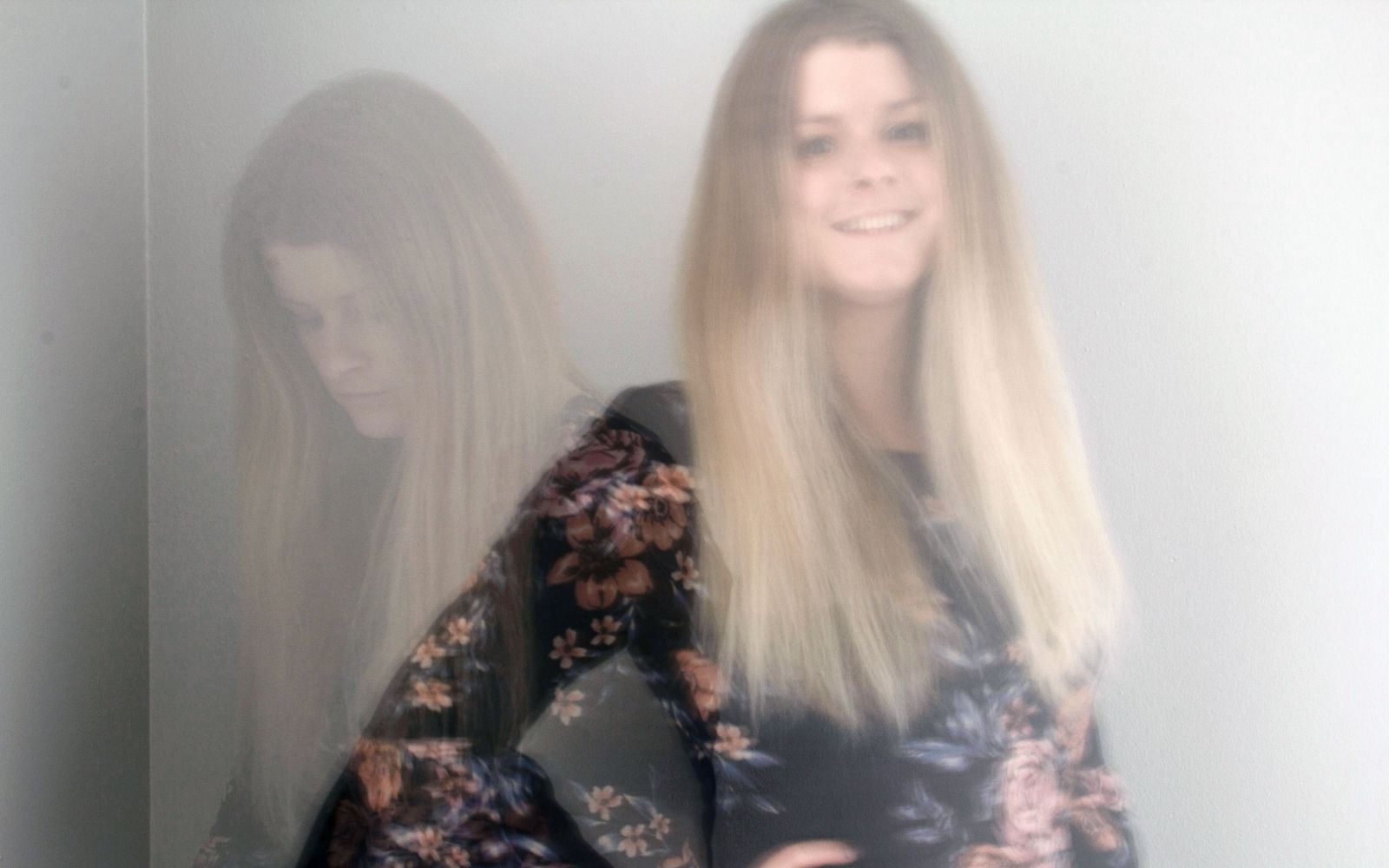 3. Great stories make you feel something
In our photos, I find that nothing evokes emotion quite like lighting. For me, moody low-key, or long-exposure shots are some of the most powerful.
The plays of subtle light and strong shadows in low-key photography can say a lot, as can simple or deliberate movements in long-exposure.
In the photo above, I used a dark corner, a blank wall, and had my camera set to a 10-second exposure. I stayed in one posture for 4 seconds, then quickly switched to the other position for the remainder of the shot, showing in my expression and my body language the two extremes of my energy levels.
We can also capture emotions in expressions of loved ones, or passersby. The positioning of a hand can show hard work, or soft care.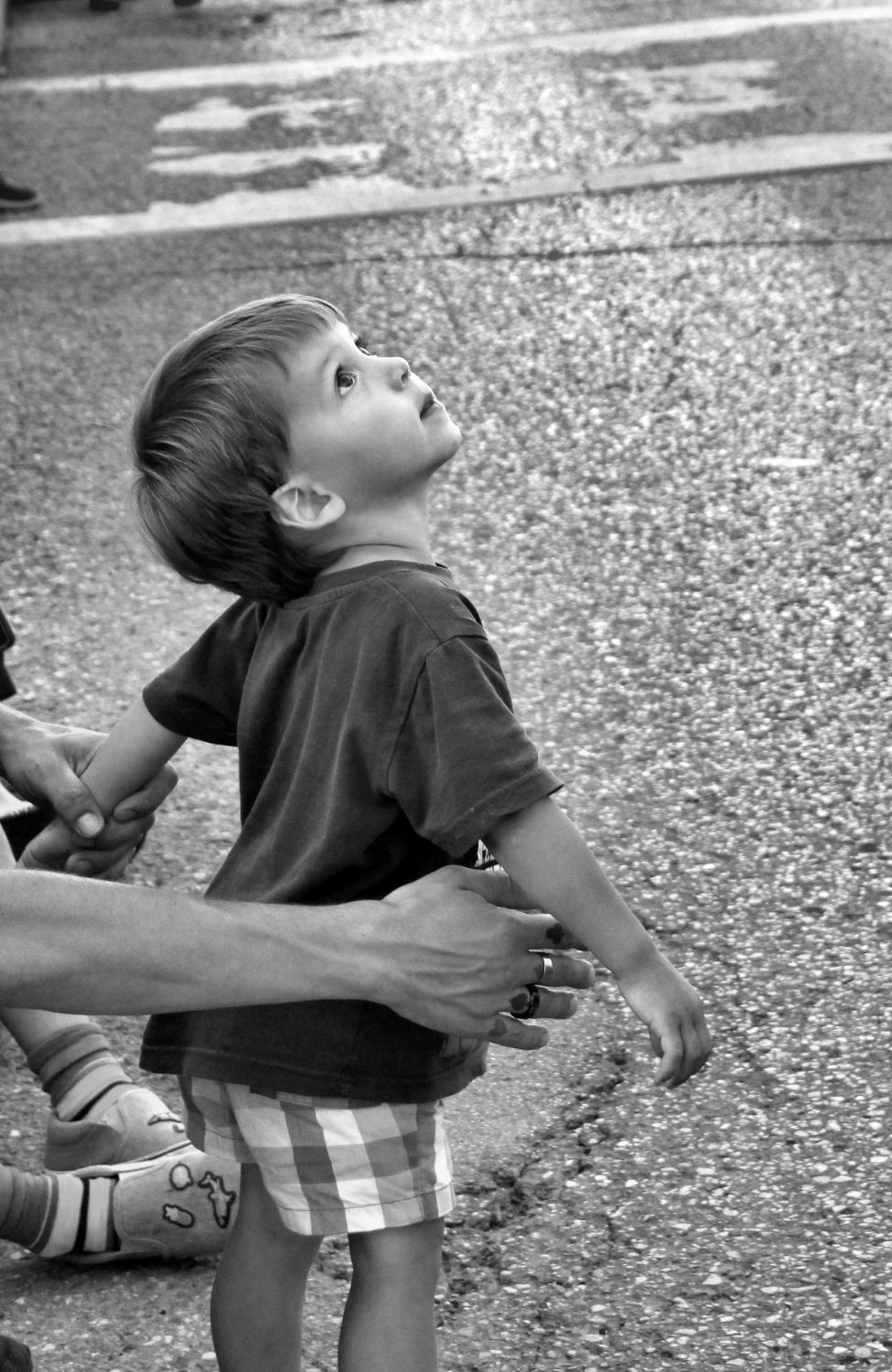 What photos do you see that speak to you and pull at your heart-strings, or at the corners of your mouth? Do you try taking those kinds of photos?
Let me tell you a story about the little boy in this photo. We were standing beside each other at a parade. There was loud cheering, country music, vibrant colours and constant chatter as float after float passed by. This little boy seemed to block out all of it. His attention was captured by airplanes, so high in the sky I could barely see them. He was in his own world, and so content, safely held by his dad so that his eyes could wander, but not his body. I was mesmerized watching his big eyes full of curiosity and wonder.
In our storytelling, we want to appeal to emotions. This doesn't mean begging for sympathy. My favourite emotion to create in someone reading my captions is laughter (usually through self-deprecating humour). My second favourite way is through tears, passion, and causing people to think and empathize.
A sense of humour and empathy are two of the most powerful tools I have, and I try to use them as a storyteller.
What is it about your photo, your day or your process that might make others stop and think, laugh, cry, smile or empathize? See if you can write it out, and pour your emotions onto the page (or, screen in this case!)
If you're not one to express emotions as easily, one of my favourite ways to bring someone into a story and trigger emotions is through the 5 senses.
Wherever your photo comes from, tell us about how it smelled— the place or the object. Tell us how it felt, tell us the sounds that were around you. Move beyond saying it "smelled nice." Think of it as though your best friend is on the other side of the world and they want to know exactly what it's like to be right where you are.
Take time in these moments around taking your photo, especially if you're taking it outdoors, to hear the buzz of the city, the wind whistling in nature, the children's laughter as they play nearby, and take note. The best photographers and storytellers are found in the best observers.
With your words, your photo can become a 3D image that comes alive in front of us, pulls us in and drops us into your shoes. Isn't that a powerful thing?
Our photos tell a story each and every single day. They tell our friends, families and community members what's important to us. We can become better, more intentional storytellers through our photos and our words, and shape the stories we tell ourselves, and the stories we leave behind. What story do you have to share with us today?